Toyo Bridge (Ja Ja Bridge)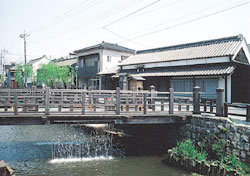 A bridge that spans the Ono River in front of Inoh Tadataka's Former Residence. It was originally a large canal built in the early Edo period (1603-1868) that carried water from the eastern part of the Ono River to the rice paddies at the other end of the river. It has been used for almost 300 years, and even after it became a concrete bridge before WWII, water continued to flow through a large water pipe under the bridge. When the water falls into the Ono River, it makes the sound ja ja, giving the bridge its nickname "Ja Ja Bridge."
The bridge we see today was built for tourism. Water falls from it every 30 minutes from 9:00 AM to 5:00 PM. The sound of water falling from this bridge has been selected as one of the 100 Soundscapes of Japan.
I-1900-1 Sawara, Katori City
Approx. 10 min walk from JR Sawara Station
Approx. 10 min from Sawara-Katori IC on the Kanto-Higashi Expressway
Take the Kantetsu Green Bus from Tokyo Station, bound for Hokota/Aso. Get off at the Yasaka-mae bus stop and walk for 5 minutes.
Take the Keisei Bus (Chiba Kotsu) from Tokyo Station or Hamamatsu-chō Station, bound for Choshi via Sawara. Get off at Sawara Station North Exit and walk for 10 minutes.
Nearby Tourist Attractions
Free parking and paid parking available
Historical District Tourist Information Center, Sawara Visitor's Center, etc. (Handicap restrooms available)
Katori City Tourism Section
Phone: 0478-50-1212
商工観光課 観光班
〒287-8501 千葉県香取市佐原ロ2127番地 (市役所3階)
電話:0478-50-1212 ファクス:0478-54-2855