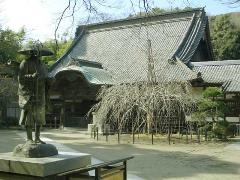 Kampukuji-temple is one of the Japan three major Yakuyoke(protecting evil) saint, counted with Kawasaki and Nishi-Arai.
 It belongs to Buzan Sect of Shingon Buddhism.
 Kanzenon-bosatsu is a principal image.
 There is a grave of Tuuuyama Ino, too.
 Moreover, Kampukuji-temple is known for beauty in the spectacle of the four seasons.
Japanese one of the three major Yakuyoke saint. Please come to see the spectacles of the four seasons.
The Historic streets of Sawara
The museum of festival float in Sawara
The sights a little way off
Reference
 Kampukuji-temple
 1752, Makino, Katori City
 None
 free
 By train : Getting off at Sawara Station, JR Narita-line. And 25 minutes on foot
 By car : Higashi Kanto Expressway Sawara-Katori exit 15 minutes from
 By High-way bus: Kanto Railways Green Bus from Tokyo Station for Hokota-station getting off at Yasaka and 10 minutes on foot
 Keisei bus, from Hamamatsu-cho, or Tokyo-station, by way of Yatsu, for Choshi, getting off at Sawara station north exit, and 25minutes on foot.
 Free parking 20 standard-sized cars
 dumpling, seven spices, sweet potato cake,fish boiled in soy sauce, pickles, and local sake, etc.
生活経済部 商工観光課 観光班
〒287-8501 千葉県香取市佐原ロ2127番地 (市役所3階)
電話:0478-50-1212 ファクス:0478-54-2855