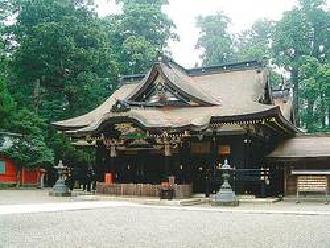 Katori Jingū Shrine, which enshrines Futsunushi-no-Ōkami, a deity who appears in many famous Japanese mythologies, is said to have been established in 643 BC and is the Ichinomiya (a historical term referring to the Japanese Shinto shrines with the highest shrine rank in a province or prefecture) of Shimōsa Province. Before the Meiji period (1868-1912), Ise Jingū Shrine, Katori Jingū Shrine, and Kashima Jingū Shrine were the only shrines given Jingū status (a Jingū shrine is a high-status Shinto shrine with connection to the Imperial House of Japan), making them the most famous shrines in Japan.
The main hall, central hall, and prayer hall all share one roof and are connected by an intermediate passageway. The cypress bark roof, colored like a deer hide, and the jet-black appearance is truly beautiful. In addition, this shrine possesses a national treasure, the Kaijū Budō Kyō(Sea Beast Glazed Mirror), Important Cultural Properties, such as the Koseto Guardian Lion-Dog and the Sōryū Kyō (Double Dragon Mirror), and over 200 Cultural Properties designated by Chiba Prefecture and Japan.
The scenery at

Katori Jingū Shrine (external website, JP only)(外部サイト) is beautiful during all four seasons. Why don't you come pay your respects?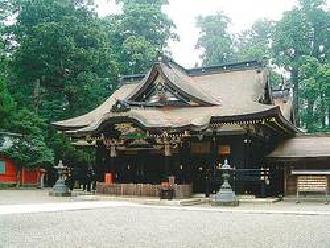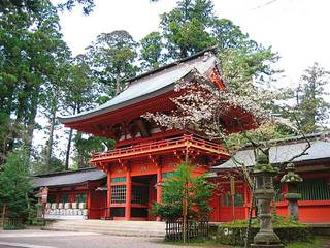 Katori Jingū Shrineの楼門(Large size)(PDF:91KB)
Main Hall (Important Cultural Property)
Constructed in 1700 by the fifth ruler of the Tokugawa shogunate, Tokugawa Tsunayoshi.
Tower Gate (Important Cultural Property)
This vivid vermillion-lacquered tower gate was built together with the main hall in 1700. The framed calligraphy was written by Admiral Tōgō Heihachirō.
Located in front of the tower gate, this cherry tree is said to have been planted by Tokugawa Mitsukuni, who was also known as Mito Kōmon.
Located on the south side of the shrine building, this giant camphor tree is said to be 1,000 years old and has a circumference of 10 meters.
Horse-Riding Ground and Cherry Blossoms
Located behind the shrine building are hundreds of cherry trees, including Yoshino cherry trees and Ōshima cherry trees. This area is famous for its cherry blossoms and during cherry blossom season, this area bustles with visitors who have come to see them.
Many sacred treasures, including National Treasures and Important Cultural Properties, are stored and displayed here.
Precinct (Natural Monument designated by the prefecture)
In this vast 123,000 m2 shrine precinct, also known as Katori-no-Mori (lit. "Forest of Katori") and Kamegase-yama (lit. "Turtle Shell Mountain"), there is a dense grove of old Japanese cedar trees.
697-1 Katori, Katori City
Approx. 10 min by car from JR Sawara Station
*There are also buses from JR Sawara Station. For more information, please check out the FAQ page of Katori Jingū Shrine's website.
Approx. 2 min from Sawara-Katori IC on the Higashi-Kanto Expressway
Take the Kantetsu Green Bus from Tokyo Station, bound for Hokota/Aso. Get off at the Katori Jingū Shrine bus stop and walk for 1 minute.
Take the Keisei Bus (Chiba Kotsu) from Tokyo Station or Hamamatsu-chō Station, bound for Choshi via Sawara. Get off at Sawara Katori bus stop and walk for 15 minutes.
Kusa dango (mugwort-flavored rice dumpling)
Shichimi (blend of seven spices)
Sweets made with sweet potato
Vegetables pickled in sake lees
Japanese pickled vegetables
Local sake etc.

Katori Jingū Shrine (external website, JP only)(外部サイト)
Phone: 0478-57-3211
Nearby Tourist Attractions
Inoh Tadataka's Former Residence
PDF形式のファイルを開くには、Adobe Acrobat Reader DC(旧Adobe Reader)が必要です。
お持ちでない方は、Adobe社から無償でダウンロードできます。


Adobe Acrobat Reader DCのダウンロードへ
商工観光課 観光班
〒287-8501 千葉県香取市佐原ロ2127番地 (市役所3階)
電話:0478-50-1212 ファクス:0478-54-2855