更新日:2021年8月13日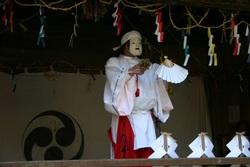 Date: 4th Saturday of February
Time: from 12:00 PM
Fuma's Kagura began in the beginning of the Meiji period (1868-1912) when Shinto priest Shime Toshimasa, who was chief priest at the time, taught kagura (ancient Shinto music and dancing) to young shrine parishioners to pray for abundant harvest and fire prevention. At first, the people of Kimyōdai Ward passed Fuma's Kagura on for generations, but around 1965, there were not enough successors, and so, it disappeared. Around 1974, however, a preservation committee was created in an effort to revive it. Kagura performers were selected from all over Fuma, and starting with the annual grand festival (Fire Prevention Festival) in 1976, it began again. Currently, kagura performers pass it on to theirs successors every six to seven years, preserving this tradition with the youth.
Katori City designated Intangible Folk Cultural Asset.
Sarutahiko-no-Mikoto

Ame-no-Uzume-no-Mikoto

Yahata-no-Ōkami

Sanpōkōjin

Otome-no-Mikoto

Ebisu-no-Ōkami

Inari Daimyōjin

Ame-no-Taneko-no-Mikoto

Byakko

Susanō-no-Mikoto

Interlude: Chigomai (paper streamer dance and paper fan dance)
(Before, there were 12 performances, but now the program follows this sequence)
Nearby Tourist Attractions Close by…
Inoh Tadataka's Former Residence
Niisato's Shirakawa-style 12 Kagura Performances
Take the bus from JR Omigawa Station, bound for Asahi, for 30 minutes. Get off at Obonai bus stop and walk for 5 minutes.
25 min from Taiei IC on the Higashi-Kanto Expressway via Tōsō Toll Road

20 min from Sawara-Katori IC on the Higashi Kanto Expressway
Take the Chiba Kotsu from Hamamatsu-chō Station or Tokyo Station bound for Chōshi via Asahi. Get off at Yamada bus stop and drive for 10 minutes.
Katori City Lifelong Learning Division: 0478-50-1224