更新日:2021年8月13日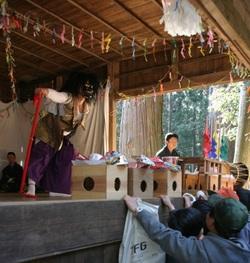 Nagaoka's Kagura originally began at Kumano Shrine, located in Nagaoka, Katori City, but was 1915 Inabayama Shrine.
Today, Ki-no-Uchi Kagura, which consists of 12 kagura performances, continues to be passed down by a local volunteer organization called Ki-no-Uchi Kagura Preservation Committee. Ki-no-Uchi Kagura is performed during the religious festival on March 3rd to pray for shrine parishioners' tranquility, abundant harvest, and thriving business. It is also performed at Suga Shrine's religious festival on April 3rd.
It is designated as an Intangible Folk Cultural Asset by the city.
Sarutahiko-no-Ōkami

Ame-no-Uzume-no-Mikoto

Yahata-no-Ōkami

Sanpōkōjin

Ame-no-Otome-no-Mikoto

Ame-no-Dajikarao-no-Mikoto

Kotoshironushi-no-Mikoto

Kasuga-no-Ōkami

Inari-no-Ōkami

Seed Scattering and Okina-tsuki Byakko Dance

Susanō-no-Mikoto

Chigomai (two performances)
20 min from Taiei IC on the Higashi-Kanto Expressway via Tōsō Toll Road

20 min from Sawara-Katori IC on the Higashi Kanto Expressway
Take the Chiba Kotsu from Hamamatsu-chō Station or Tokyo Station bound for Chōshi via Asahi. Get off at Yamada bus stop and drive for 10 minutes.
Katori City Lifelong Learning Division: 0478-50-1224