更新日:2021年6月16日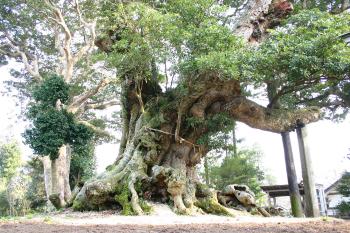 In the precincts of Uga Shrine, a small shrine located at the top of a 47-meter-tall hill, which towers over the paddy fields, a massive camphor tree stands. Its branches loom over the entire precinct, making it dim, even on sunny days. Its roots protrude from the ground, its trunk is very bumpy, and its branches stretch to over 16 to 18 meters long. Take one step through the Torii gate and you will be overwhelmed by the "chi" emitted from this giant tree.
Although it is called a camphor tree, it is actually a Japanese bay tree. Among the other several large bay trees in the area, one particular tree in the north grows slantwise. Today, this tree is its own individual tree, but during the Genroku period (1688-1704), it was a tree that grew roots from a drooping branch of the Great Camphor Tree. As such, this tree is known as "Small Camphor Tree."
Uga Shrine, home to these bay trees, is an old shrine within Fuma District that was established in 773, when Ukemochi-no-Kami, the goddess of food, was invited to the area. This entire region also once served as the fortress of the Fuma Clan during the Middle Ages (1185-1603).
On October 20, 1926, the Great Camphor Tree of Fuma became a Nationally Designated Natural Monument, and in 2001, it was selected as one of the 100 Scentscapes of Japan by the Ministry of the Environment.
Take the bus from JR Omigawa Station, bound for Asahi. Get off at Obonai bus stop and walk for 10 minutes.
Katori City Lifelong Learning Division
Phone: 0478-50-1224