更新日:2021年8月17日
Nissato's Shirakawa-style 12 Kagura Performances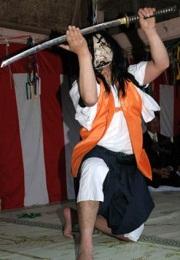 In 1804, volunteers and the village headman, who served as the head temple petitioner, held an eitai kagura (ancient Shinto music and dancing)festival, dedicating kagura tools and pots. This festival has been held annually on March 20th since 1807 to pray for peace, tranquility, prosperity, safety, and abundant harvest. During WWII, the festival was reduced to just a chigomai (a dance performed by children) performance, but since 1948, the festival has been entrusted to the young shrine parishioners' association. In 1975, the Nissato Performing Arts Preservation Committee was formed and has continued to pass down the Shirakawa-style 12 kagura performances since then.
Before the kagura performances, a Shinto ritual in which a shaman or priest soaks bamboo grass in boiling water and sprinkles the water on worshippers takes place.
It is designated as an Intangible Folk Cultural Asset by the city.
[Program]
Sarutahiko-no-Mikoto

Otome

Dajikarao-no-Mikoto

Yahata

Sanpōkōjin

Uzume

Sakakiba, Tahito (Inari)

Ukemochi-no-Mikoto

Scattering Seeds

Susanō-no-Mikoto (finale)

Chigomai (morning and evening)
Yaegaki Shrine
938 Nissato, Katori City
20 min from Taiei IC on the Higashi-Kanto Expressway via Tōsō Toll Road

20 min from Sawara-Katori IC on the Higashi Kanto Expressway
Take the Chiba Kotsu or Kantetsu Green Bus from Hamamatsu-chō Station or Tokyo Station bound for Chōshi via Asahi. Get off at Yamada bus stop and drive for 5 minutes.
Katori City Lifelong Learning Division: 0478-50-1224