更新日:2021年8月13日
Yamakura's Salmon Festival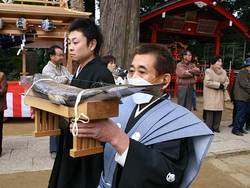 Date
Yamakura Daijin Shrine: 1st Sunday of December
Kanpuku-ji Temple: December 7th
Time:
Procession: from 11:00 AM
Portable Shrine Procession: evening
Salmon is offered during the Hatsu-u Festival at Yamakura Daijin Shrine and Kanpuku-ji Temple, and thus, has also become known as the Salmon Festival. This religious ceremony was originally held on Hatsu-u (the first day of the rabbit) of the eleventh month of the lunar calendar. It is said that as the day of the festival approached, salmon would begin swimming up the nearby Aoyama River.
At Yamakura Daijin Shrine, salmon was a gift to the Palace of the Dragon King. On the day before the Hatsu-u Festival (currently the 1st Sunday of December), the dedicated salmon, the Shinto ritual of Shirakawa-style Knife Ceremony, to cut into small slides, only on the day of the festival, handed out to worshippers as an amulet. This amulet is to avoid disaster ("to avoid" and "salmon" are homophones in Japanese), always having ready, along with charred salmon amulet, known as an elimination of illnesses and disaster, especially cold medication.
At Hatsu-u Festival, a traditional procession presenting the salmon gathers and solemnly carries out the ritual. In the evening, the portable shrine process also happens.
In addition, at Kanpuku-ji Temple, go into seclusion in the main hall and continued fasting training Kobo Daishi as the base, dragon king offers salmon, when Kobo Daishi split it among the villagers, it is said that they were cured of their illnesses, even today, salmon is offered on the first day of the rabbit of the eleventh month of the lunar calendar.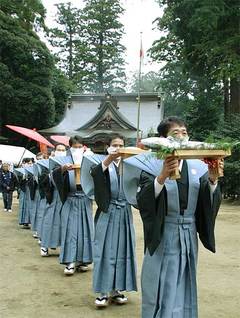 Yamakura's Salmon Festival(PDF:67KB)
2347-1 Yamakura, Katori City
20 min from Taiei IC on the Higashi-Kanto Expressway via Tōsō Toll Road

25 min from Sawara-Katori IC on the Higashi Kanto Expressway
Take the Chiba Kotsu or Kantetsu Green Bus from Hamamatsu-chō Station or Tokyo Station bound for Chōshi via Asahi. Get off at Kurimoto bus stop and drive for 5 minutes.
Yamakura Daijin Shrine: 0478-79-2706
Kanpuku-ji Temple: 0478-79-2802