更新日:2021年7月2日
Suigo Omigawa Fireworks Festival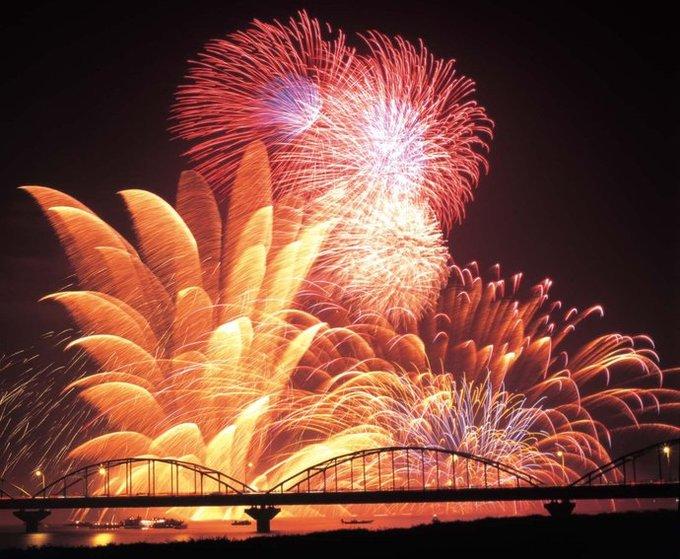 Outline of Suigo Omigawa Fireworks Festival
One of the largest fireworks festival in Kanto. This festival boasts having one of the longest history in Kanto, coloring the night sky of Omigawa since the Meiji period (1868-1912). Magnificent fireworks are launched from the surface of the Tone River, creating a scenery that can only be found in a town blessed with water and greenery. Among the various fireworks, the giant star mine firework bursting in the clear sky above the Tone River is by far the most impressive.
In addition, during the festival, pyrotechnicians from firework shops and factory nationwide bring their prized fireworks and compete with each other in the National Fireworks Competition.
National Fireworks Competition
At the National Fireworks Competition, the contestants, each a master firework technician selected from all over the country, set off one firework. The precision of the shape, the exquisite color scheme, and the uniqueness of the creator's technique. All of their skills reflected in this one firework shot.
August 1st, from 7:30 PM (will be postponed in case of stormy weather)
Tone River riverside near Omigawa-ōhashi Bridge
Watch the thousands of fireworks up close from the seating area.
15,000 yen (for six people)
Sold at Katori City Commerce and Industry Association
0478-82-3307
Note: Tickets are not sold on weekends.
It is prohibited to save spots before the festival.
We request that you save spots on the day of the fireworks festival.
If spots are found to be saved before the festival, we will remove and dispose of the items used to save the spot.
Send a message accompanied by magnificent fireworks in the summer night sky at the Suigo Omigawa Fireworks Festival.
Target audience: individuals, groups (messages for profit-making purposes are not allowed)

Sponsorship money: starting at 10,000 yen

Content: a concise message within 50 characters (commercially-sold sound sources are not allowed)

Application: Katori City Commerce and Tourism Division (0478-50-1212)
Fireworks were first introduced to Japan during the Edo period (1603-1868). Around the middle of the Meiji period (1868-1912), it became a tradition in the Omigawa region to set off fireworks during Shinto festivals to pray for prosperity, anniversary events, and other town and village celebrations. The first fireworks festival was in August 1908, when local shop owners of former Omigawa Town made donations to pray for greater prosperity as a water transport commercial city.
Today, the Suigo Omigawa Fireworks Festival is held every August 1st, the same day as the Tone River's River Opening Day. As a seasonal charm of summer, it attracts a large number of people. Moreover, to those living in or who were born in Katori City, this festival is a symbol of their hometown's vitality and as such, continues to be passed down as an important event.

Suigo Omigawa Tourism Association (external website, JP only)
Katori City Commerce and Tourism Division
0478-50-1212