更新日:2021年6月25日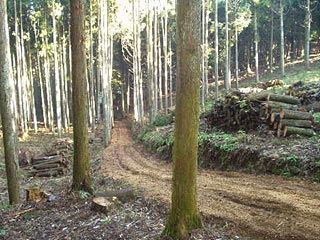 When one thinks of "original Japanese landscape," mountain villages, forests, rice paddies, and crop fields come to mind. Makino Forest is a 50-hectare undeveloped woodland with a thicket of assorted trees, paddy fields converted from a marshland, and a reservoir. Of the 50 hectares, 10 hectares undergo periodic undergrowth clearing, forest thinning, and restoration, allowing you to see many plants and insects. Moreover, there is a 4-kilometer pathway made from wood chips from the forest thinning. Take a peaceful, therapeutic walk through the forest and enjoy the wild birds and plants.
In addition, you can interact with the bountiful nature at the neighboring Tachibana Fureai Park and Tachibana Weir.
Take the bus bound for Asahi from JR Omigawa Station. Get off at the Tabe Kamakura-mae bus stop and walk 10 minutes.
Katori City Product Promotion Section
Phone: 0478-50-1258