Toyohashi-bridge (Jah-jah bashi)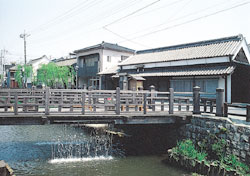 A Bridge spanning river Onogawa, in front of the historic house of Inoh Tadataka.
 Originally, this was made with a large gutter to send water for agricultural use from the east shore of river Onogawa to the opposite in the Edo period.
 It is called, "Jah-jah" bridge by association from the sound of the dropping water that flows from the bridge.
 The bridge today is the one made for sightseeing, and water flows every 30 minutes. This is chosen to be The Sound scenery 100 of Japan".
The waterpower flows until 9:00AM-4:00PM all the year round every 30 minutes. If you can see the falling water, you might be lucky.
The Historic streets of Sawara
The sights a little way off
Reference
 Toyohashi-bridge (Jah-jah bashi)
 1900-1, Sawara-I, Katori City
 free
 By train : Getting off at Sawara Station, JR Narita-line. And 15 minutes on foot
 By car : Higashi Kanto Expressway 10 minutes from Sawara-Katori exit
 By High-way bus: Kanto Railways Green Bus from Tokyo Station for Hokota-station getting off at "Yasaka-mae".
 Keisei bus, from Hamamatsu-cho, or Tokyo-station, by way of Sawara, for Choshi 20 minutes from "Sawara-eki Kitaguchi".
 (The Inoh Tadataka Museum) 70 standard-sized car for free.
 fish boiled in soy sauce, pickles, local sake, sweet potato cake, and Japanese cloth etc.
生活経済部 商工観光課 観光班
〒287-8501 千葉県香取市佐原ロ2127番地 (市役所3階)
電話:0478-50-1212 ファクス:0478-54-2855